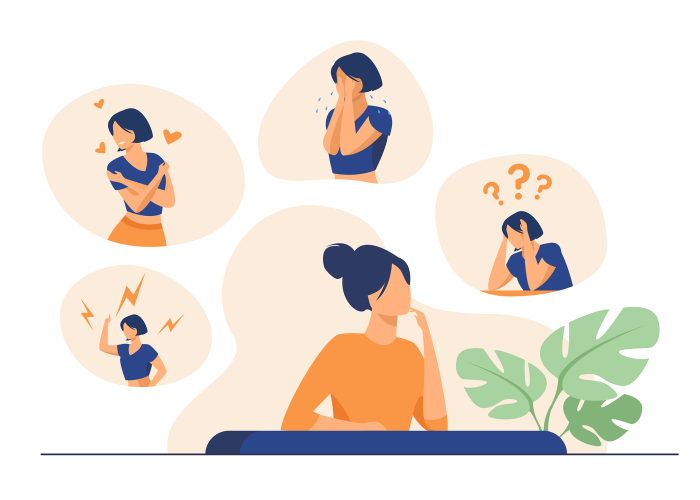 PTSD and Anger
Anger is a common aspect of a survivor's response to a traumatic event. It's an important part of the human survival response. Anger helps us cope with life's stresses by providing us with the energy to keep going when we are confronted with difficulties or obstacles. Anger can cause significant issues in the individual existence of the people who have experienced trauma or who are encountering PTSD.
You can get locked in a "ready to act" mindset if you have PTSD. Your anger is always simmering beneath the surface.You may not think about the situation before behaving when something irritates you. Your anger rises as you move into survival mode.

PTSD And Anger: Is There A Link?
There is undoubtedly a relationship between PTSD and anger. Anger might arise because of a traumatic event. Trauma can be an isolated experience. Family members may be oblivious to the suffering or react improperly.
Even when loved one's want to be sympathetic, they may not fully comprehend the gravity of the trauma, leaving trauma survivors feeling as if their pain has been overlooked or forgotten. This might lead to feelings of rage, mistrust of people, and other negative sentiments.

Anger's Impact On PTSD Symptoms
It's difficult to deal with PTSD and anger at the same time.
People who suffer from PTSD and anger may grow tired of coping with mood swings and angry outbursts.
They may get extreme anxiety or perhaps decide to break up with their loved ones. This might exacerbate emotions of isolation and rage.
People who are angry because of PTSD may feel both humiliated and entitled to their feelings.
This complex mix makes it difficult for them to express their feelings or try new coping techniques.

Other Symptoms That May Occur with PTSD and Anger
The continuous recurrence of memories or experiences related to the trauma, such as in dreams, flashbacks, or feelings during the day, is the characteristic of PTSD. People with PTSD may likewise avoid situations that remind them of the event in which they may suffer melancholy, sadness, uncertainty, and anger.
People who have PTSD and anger are more likely to have additional symptoms, such as
Relationships with children and marriages are affected.
Isolation, especially when a person with PTSD wants to be supported but has trouble regulating their anger at others.
Anger can cause physical health problems such as migraines, chronic discomfort, and even cardiovascular difficulties.
If PTSD sufferers act out forcefully or self-medicate with illegal substances, they may face legal issues.

What You Can Do To Control Your Anger Outbursts
A 12-week cognitive-behavioral group treatment opted for managing PTSD and anger. Session includes:
Recognizing anger's physical, emotional, and situational signs
Creating personalized anger-management strategies
Detecting and changing negative perceptions about yourself
Discussing and evaluating high-risk anger circumstances

What Else You Can Do
Don't keep your emotions hidden. It is likely to make you feel even worse.
Speak with someone you can rely on.
Making a list of the things that are upsetting you may be beneficial.
Make a list of what you can alter and how you can change it.
To relieve anger, you can exercise, sketch, paint, or listen to music.
If you have problems dealing with traffic jams, alter your work schedule so that you do not have to drive during rush hour.
If standing in lines irritates you, run your errands when stores are less crowded.

How Can PTSD and Anger Be Tackled?
PTSD can damage a person's life and relationships. They may feel depressed and suicidal because of it. However, no one has to live with the consequences of trauma indefinitely. PTSD is a treatable disorder.

Effectiveness of Therapies
You can ease many symptoms of PTSD and anger with certain types of therapy, such as exposure therapy. Cognitive-behavioral therapy (CBT) and other therapeutic interventions that assist a person in better control their emotions may help in reducing anger.

Impact of Support Groups
Support groups, particularly ones for people who have had similar experiences, provide reassurance, camaraderie, and practical help.

Importance of Social Support
People who suffer from PTSD require the help of family and friends. They shouldn't judge, tease, or humiliate them for not recovering quickly enough. Before they find what works for them, a person may have to try a variety of therapy choices or therapists. For someone who is already in agony, this endurance can be tough.
Friends and family members should offer support, explore treatment options, and reassure their loved ones that there is still hope.

Goal of Treatment
There are many ways to help people with PTSD and anger. The goal of treatment is to address all components of anger. One of the primary goals of treatment is to increase your sense of control and flexibility.
You won't have to feel you're reliving trauma every time you react to a trigger with explosive or excessive rage this way. Treatment may also improve personal and professional connections. It's important to keep in mind, particularly PTSD that generates extreme anger does not automatically lead to violence. Treatment can be hampered by stigmatizing mental health concerns, especially when individuals are rejected as violent or irrationally angry.